Shipping containers are the most commonly used mounting option for Fabric Shelters. They are a flexible, cost-effective and versatile solution, making them a highly popular choice. Shipping containers come in a variety of sizes, with 20-foot and 40-foot containers being more common. Size is an important consideration when choosing the right container for a specific application, including Fabric Shelters.  
In this article, we will explore shipping container sizing and how different sizes are used for Fabric Structures. We will examine the benefits of using different size containers and how the choice of container size affects the overall functionality and versatility of the Shelter. 
What Shipping Container Sizes are Available?
Shipping containers come in a range of sizes – size refers to their length, which is measured in feet.  
With so many size variations available, there is no 'standard' shipping container length. However, 20ft and 40ft are the most common container sizes. 
There are two standard container heights – General Purpose (GP) and High Cube (HC or HQ).  
General Purpose Containers: The external height of a general purpose container is 8'6" or 2.59m. 

 

High Cube Containers: A High Cube Container has an additional foot of height, making it 9'6" or 2.89m tall. High Cubes were originally introduced to provide greater internal storage space. You can tell if a container is High Cube if it has black and yellow tape beside the corner castings.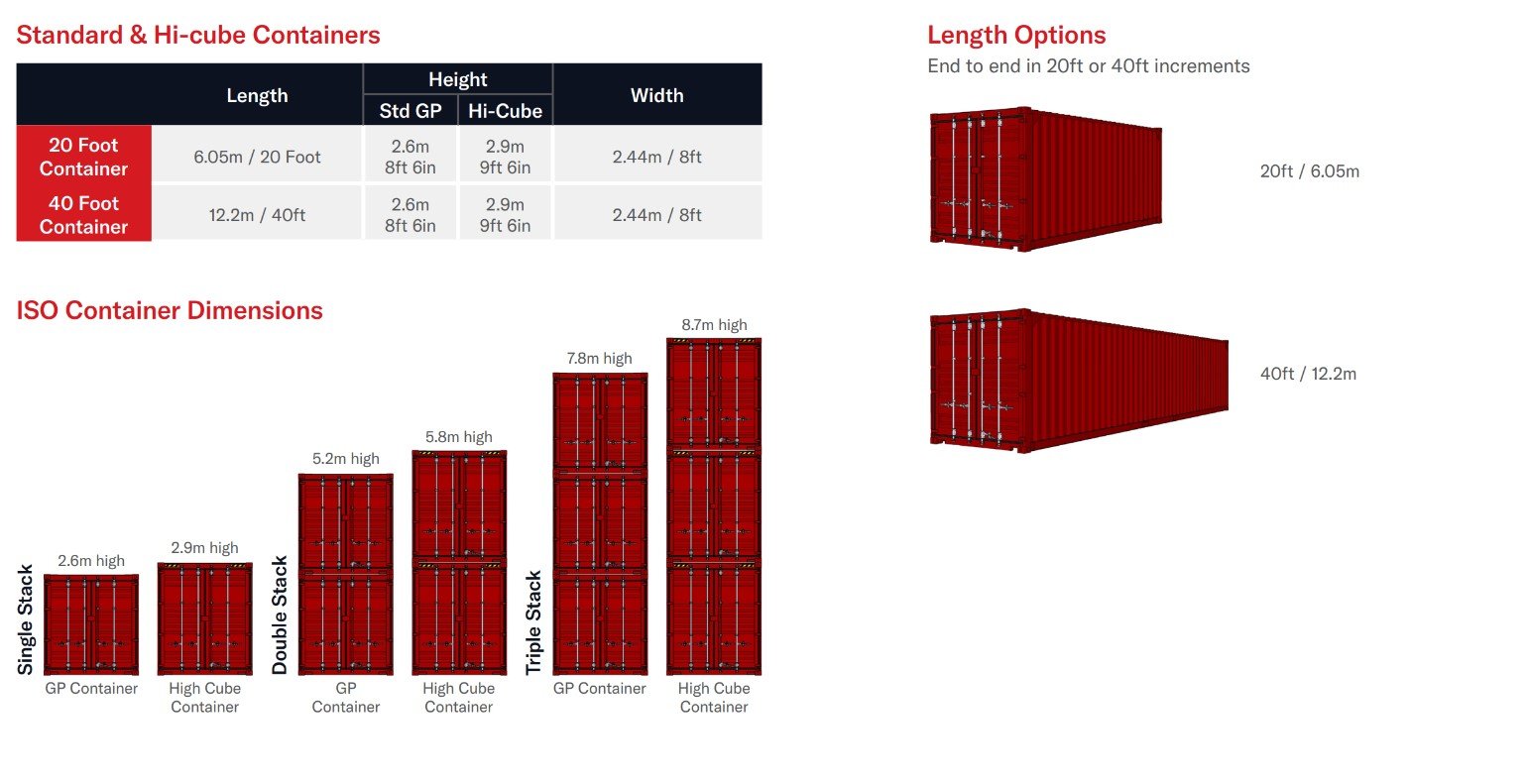 Why Use Containers for Fabric Structures?
There are a number of benefits to mounting Fabric Shelters on sea containers, and it is generally the most popular mounting type.  
Consistent sizing and international standards makes it easy to design Shelters for container mounting, providing a quick and effective solution

 

Containers can be anchored with internal or external ballast, reducing or even eliminating the need for ground anchoring, providing a modular design that can be easily relocated without damaging its surrounding environment

 

Containers can be modified or outfitted to serve as offices, storage space, or other uses, maximising value for money

 

What Size Container Should I Use for my Shelter?
DomeShelter Australia manufactures Fabric Structures to suit any size ISO shipping container. Standard container sizes that are most commonly used for mounting Shelters are 20' and 40'. 
Our standard range starts from 6m wide and 6.1m long; they are specifically designed to fit the length of a 20' sea container. For customers seeking more length, our standard range also includes Shelters manufactured at 12m long, suitable for either two 20' containers or one 40' container. 
Due to their standardised sizing, containers make it simple to manufacture Shelters of any length beyond 40', for clients needing the extra size. For example, our longest Shelter to date, used for bulk storage at Incitec Pivot's Phosphate Hill facility, is 292m long, mounted on 24 containers in a continuous line. 
If you have spare containers on-site that can be utilised, we can easily work around them, owing once again to their standard size range. If you don't have existing containers, making considerations about how you might like to utilise the containers (e.g. for office spaces) and the length that will provide the necessary size to best provide effective Shelter for your people and assets is the most important thing; we can work around whatever size container best suits your needs. 

How Does the Shelter Attach to Containers?
There are considerations to make with each mounting rail type, in terms of how they will affect the container.  
Welded mounting rails cause the most noticeable alteration to the container. On a 40 foot container, these rails require These rails require 6-8 areas of welding. If the mounting rail is removed it will leave behind weld, that can be grinded back to return the container to its previous state. 
It is also important to note that any containers intended for the storage of dangerous goods or that have in the past been used to store dangerous goods are generally not suitable for welded mounting rails, due to the safety risks associated with combustible materials.
Our bolted mounting rails rely on the corner blocks of the shipping containers for their main attachment points, but they also need up to 12 holes (for a 40' container) along the top edge of the container for correct connection of the rail. If the rail is removed, these holes can be patched with silicone or similar. Note that any containers with sandwich paneling inside will not suit this connection as it is too difficult to access the bolts. 
Get in Touch
If you are after a durable Container Mounted Fabric Shelter for your worksite, get in touch with the team at DomeShelter Australia, or try our free online design tool to explore how a DomeShelter™ Structure could suit your needs.