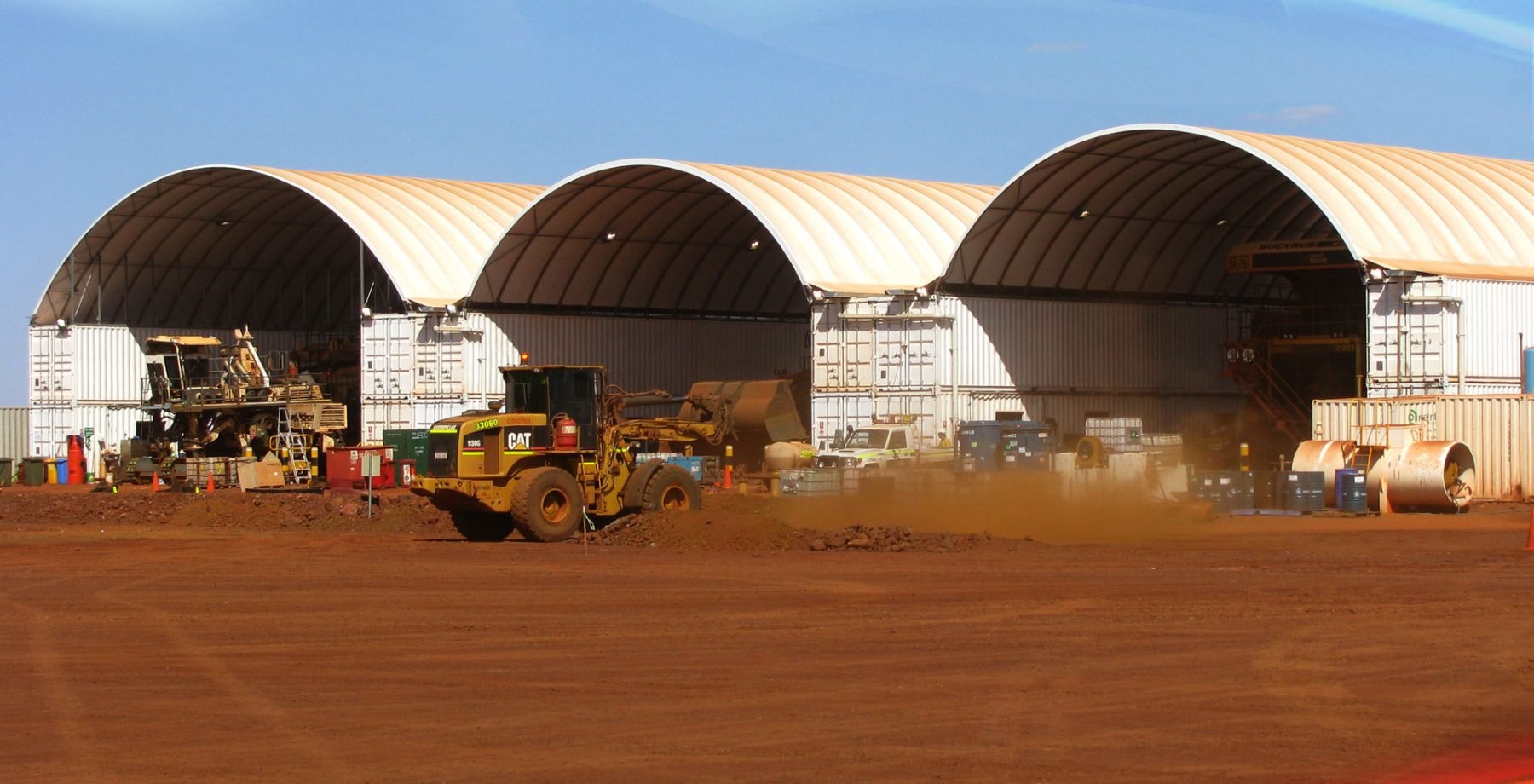 A mine site is most often a remote site and isolated from large population centres. As a result, transport both to and from the site is time consuming and expensive. This article discusses the use of Fabric Structures for mining.
Mine-sites are also often non-permanent in that mineral or ore that is being mined has a defined lifetime to exhaustion. In addition, contractors on the site are often in time defined contractual arrangements and need to vacate the site at completion of their contract.
Fabric Structures on Mine Sites
One of the many things that are transported to site and installed are modular buildings for workshops and warehousing. In times past, the only option was steel sheds, but now Fabric Structures also known as Container Mounted Fabric Shelters are fast becoming the shelter of choice by mining companies and their contractors.
Benefits of Fabric Structures for mining
A Fabric Structure is simply an arched roof that is secured either side to standard sea containers which act as walls or mounting options. They offer significant benefits over steel sheds including:
They are manufactured off-site and are transported to site in kit form. The roof consists of heavy duty but lightweight (compared to corrugated iron) Polyethylene Fabric and so the kitted roof structure can be packed down and transported with ease to site
Once onsite, the Fabric Structure can be installed, often by teams with no previous experience, simply by following simple instructions provided. Installation is not only easy but quick
Time from order to installation is fast, ensuring the project for which the shelter is to be part of can be up and running much sooner and more efficiently
By using standard sea containers, the need for ground disturbance is reduced
Just as the Fabric Structure can be installed quickly, it can just as easily be dismantled and relocated either across or off-site as the worksite needs change. It is not unusual to see 6-8-10 relocations during the project lifetime. In addition, at the end of the contract or project, the structure can be dismantled with ease and stored in kit form for the next opportunity
Sea Containers
Sea containers can be stacked up to three high to provide roof height for the highest equipment and end to end for the desired length. They are also useful for secure tool storage, office or amenities. Fabric Structures are used as workshops, warehouses and materials storage on remote mine sites and are increasingly popular as an alternative to steel sheds by the worlds leading mining companies.