DomeShelter™ Fabric Structures are a popular choice for a wide range of applications due to their versatility, durability, and quick installation.  
If you have a DomeShelter™ Structure or are considering purchasing one, you may be wondering if it's possible to insulate the structure. Insulation can provide numerous benefits, such as keeping the interior temperature more consistent and reducing energy costs.  
In short, DomeShelter™ Structures can be insulated, and there are two main types of insulation that are commonly used: Air-Cell and EPS insulation. In this article, we will explore these two options in more detail and help you determine if they are the best fit for your needs. 
What
Are My
Options?
Insulation of DomeShelter™ Structures can be done in a number of different ways, such as: 
Two layers of Tarp Fabric with a void in between to act as a thermal barrier

 

Outer DomeShelter™ Tarp Fabric with a customised, flexible

A

ir-

C

ell insulation

lining fastened to the inside of the tarp/framework

 

Inner ceiling and wall frames installed, to which

EPS

/sandwich paneling is fixed
Air-Cell Insulation
Air-cell insulation is a flexible lining that uses thermo-reflective insulation technology. It combats all forms of heat gain and heat loss – radiation, convection and conduction – to provide a thermal break for metal framed walls on low rise structures. 
Panels of Air-Cell Insulation can be fixed to the Fabric Shelter frames. Alternatively, they can be sewn or welded to the Shelter Tarp during manufacturing, so that installation is quicker and more streamlined. When the latter is done, the tarp acts as an insulated quilt, where two layers of tarp are fused with the Air-Cell sandwiched between.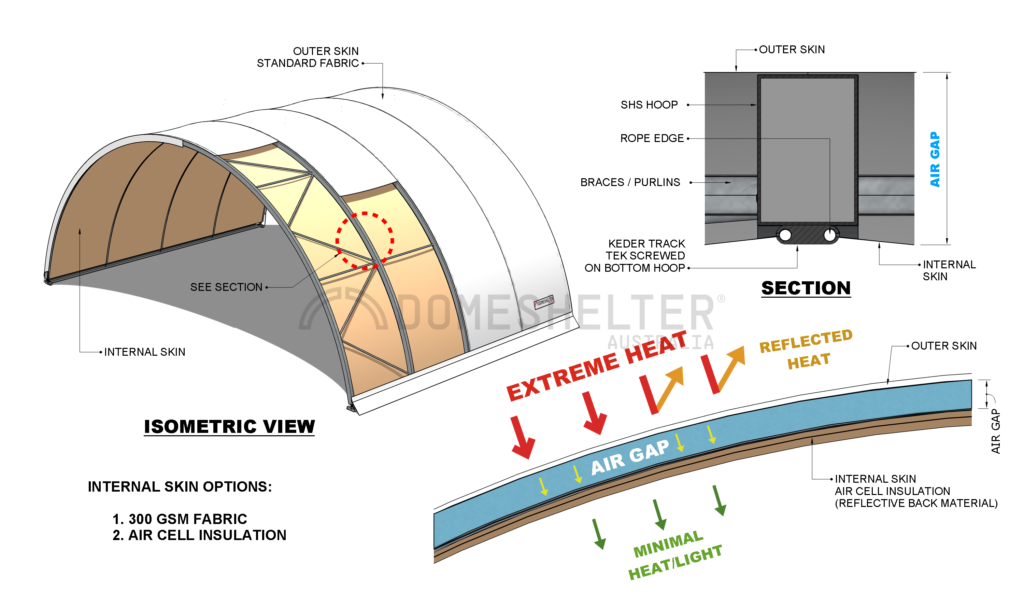 Expanded Polystyrene Insulation
EPS, the abbreviation for Expanded Polystyrene, is a commonly used insulated panel system. Also referred to as 'sandwich panels', they usually comprise of three layers: a low-density core, and a thin skin layer bonded to each side. These panels are widely used in the construction industry for buildings that require a high level of insulation, such as cold storage warehouses, chiller rooms, manufacturing processes or equipment storage, where there is extreme sensitivity to fluctuations in hot and cold temperatures.  
There are a number of suppliers available that DomeShelter Australia can work with. Some of these suppliers provide panels with different levels of fire resistance if required. 
EPS is best suited to being used as an internal ceiling in a Structure, or when fixed to inside walls and ceilings in a shipping container. It requires straight walls to be fixed to. In a DomeShelter™ Structure an artificial ceiling has to be added for the EPS panels to be fixed to. This will decrease the internal height of the Structure, but having a lower ceiling increases the air gap between outside and inside, further helping insulate. 
Past Insulated DomeShelter™ Projects
The DomeShelter™ Team has completed a number of past projects with insulation – the type of Shelter insulation and its application varying to be fully Fit-For-Purpose and suit the individual constraints of the project. 
For a project in Saudi Arabia, a double-skin technique was applied where Air-Cell was attached to the underside of the roof. The Air-Cell was brought to the factory, cut to size and fixed to the underside of the hooped Shelter framework using an annexed rope track. 
For Equatorial Launch Australia, the interior of a Shelter designed for use as a Vehicle Assembly Workshop featured fully framed internal walls and ceilings. This facilitated the use of EPS insulation to maintain the clean and air-conditioned internal environment required for the sensitive space travel equipment being assembled within.  
Temperature Control
Fabric Shelters are highly customisable, and the DomeShelter™ team is highly experienced in designing and manufacturing Fit-For-Purpose Shelters with a range of add-ons to properly serve clients' needs.  
In addition to insulation, clients can reduce the ambient temperature inside their Shelter by installing items such as: 
Ridge vents

 

Louvres (operable or fixed)

 

Whirlybirds

 

Evaporative cooling

 

Side openings

 
DomeShelter Australia
In summary, insulation can be added to DomeShelter™ Structures using various methods, including air-cell and EPS insulation. If you're considering insulation, get in touch with DomeShelter Australia to discuss your specific needs and how we can help. Our experienced team can work with you to create a customized solution that perfectly fits your requirements.