More often than not DomeShelter™ Container Shelters are installed by the client's on-site team. The clever design of the DomeShelter™ Brand and comprehensive installation instructions enable first time installers to complete the task efficiently and effectively.
DomeShelter Australia also has authorised and skilled installers for those jobs that are large, complicated or the client simply wants the service.
We spoke to Alex De Groot who has been installing container shelters for us since 2009. He's a pretty down to earth sort of fellow and was happy to share his experience with us.
Installing a
DomeShelter™ Structure
– from one of our installers
We have been installing for DomeShelter Australia since 2009 and had Domes that have been relocated for the 7th or 8th time, so they become much more cost-effective than a steel shed.
When we install Container Shelter kits, we know that everything we need on-site turns up in the kit, no need to take spares to site. The best thing is the accuracy of the product – I think I have redrilled just one hole since 2009.
DomeShelter Australia products are made to last. To date, we have never had to replace one. We recently installed a 27-metre wide structure, the steel used was 125x75x5mm, competitors have used 100x50x2mm for the same size, so there is no comparison.
You know you've got something that is 100% engineered and it's going to stand up, compared to something that looks alright for the moment and you hope the first gust of wind that hits it, doesn't. There is a massive difference.
The biggest difference, when you get a Container Shelter kit rock up at the site, it's wrapped that well, you know that it's not damaged, you can pull a tarp out and you know it's not going to be torn.
View his testimonial video for more.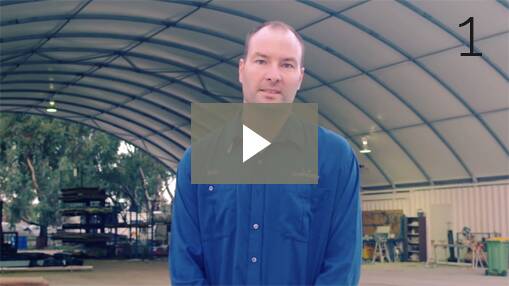 Get your Container Shelter installed fast and on time
DomeShelter™ Container Shelters are delivered fast, built to last and backed by 20 years experience, ISO 9001 certification and Australian engineering standards. Whether your team are installing, or you require a DomeShelter™ Installation Expert, get in touch to speak with a consultant today to discuss your site's requirements.